Riot Games have officially drawn the groups for the upcoming League of Legends World Championship, and they are extremely spicy.
The group draw started with selecting the teams for the Play-In stage, from which four will advance to the main event with the 12 already qualified teams. Next up, the groups for the Worlds main event were drawn, where the 12 teams were divided into four groups.
PLAY- IN STAGE DRAW
[Group A] Clutch Gaming, Unicorns of Love & Mammoth
[Group B] Splyce, Isurus Gaming & Detonation FocusMe
[Group C] Hong Kong Attitude, Lowkey Esports & MEGA
[Group D] Damwon Gaming, Royal Youth & Flamengo Esports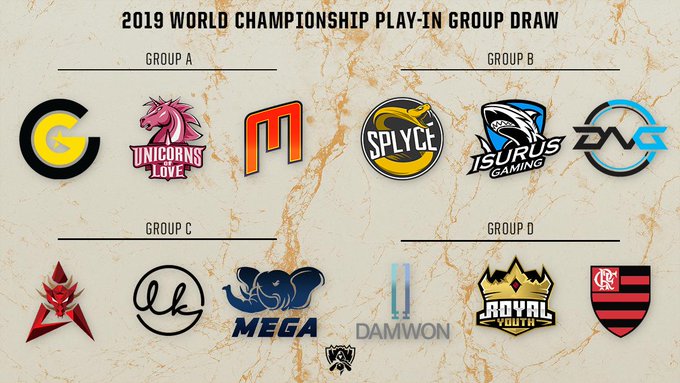 MAIN EVENT GROUP STAGE DRAW 
[Group A] G2 Esports, Griffin & Cloud9
[Group B] FunPlus Phoenix, J Team & GAM Esports
[Group C] SK Telecom T1, Fnatic & Royal Never Give Up
[Group D] Team Liquid, AHQ Esports & Invictus Gaming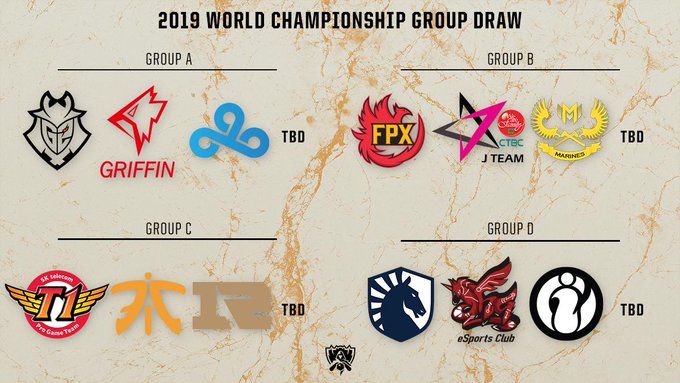 From the first look, Group A looks one of the most competitive groups. Current Mid-Season Invitational champions G2 Esports will have a lot to prove going up against LCK powerhouse rookies Griffin and North American veterans Cloud9. Elsewhere, many have already labelled Group C as the Group of Death with three-time World Champions SKT, Worlds 2018 finalist Fnatic and LPL's heavyweights Royal Never Give Up going head-to-head.
Group D holds the most questions with 2018 World Champions Invictus Gaming recently showing a decline in performance. Will they be able to beat Team Liquid, the team that knocked them out of the Mid-Season Invitational? Additionally, 2019 marks AHQ Esports return to the Worlds since 2017, allowing for curiosity around what they will bring to the tournament.
The League of Legends World Championship will officially kick off on October 2nd with the Play-In Stage and finish on November 10th with the Grand Finals. Here are the key dates and locations for all stages of the tournament.
Play-In Stage – LEC Studio in Berlin (Oct. 2nd-5th & Oct. 7th-8th)
Group Stage – Verti Music Hall in Berlin (Oct. 12th-15th & Oct. 17th-20th)
Quarterfinals & Semifinals – Palacio Vistalegre in Madrid (Oct. 26th-27th & Nov. 2nd-3rd)
The World Championship Finals – AccorHotels Arena in Paris (Nov. 10th)