Tyler "Ninja" Blevins, a former competitive gamer widely regarded as the face of Fortnite Battle Royale, will be both hosting and competing in a unique tournament on April 19th, 2019. In what is sure to be an event equally as popular as Ninja's recent New Years countdown appearance in New York, this is sure to be nothing short of incredible.
Boasting a $1,000,000 prize pool, esports players and influencers from around the world will be competing to take home the lions share and be crowned the first Tetris 99 World Champion.
This will be Tetris 99's first big move into esports, with small online tournaments currently being the only method of truly competing on the game thus far. Other Battle Royale games have seen varied levels of success with PUBG steadily growing and H1Z1's soon to launch Pro League.
Tetris 99 is a puzzle based Battle Royale, pitting 99 players against each other at the classic title but with a modern twist. By destroying lines and scoring combos, you send lines to other players and eventually maxing out their play screen and knocking them out. No champion classes, no RNG, no "where-shall-we-drop" arguments. Just adrenaline fuelled, high octane, shape flipping action.
Further details, such as specific brackets, match ups and round timings are to follow, but we know that the online qualifiers will be starting from Friday 19th of April, 2019. The offline stage venue has yet to be revealed, though initial reports point to it taking place in Disneyland Paris, following the recent Dota 2 Minor.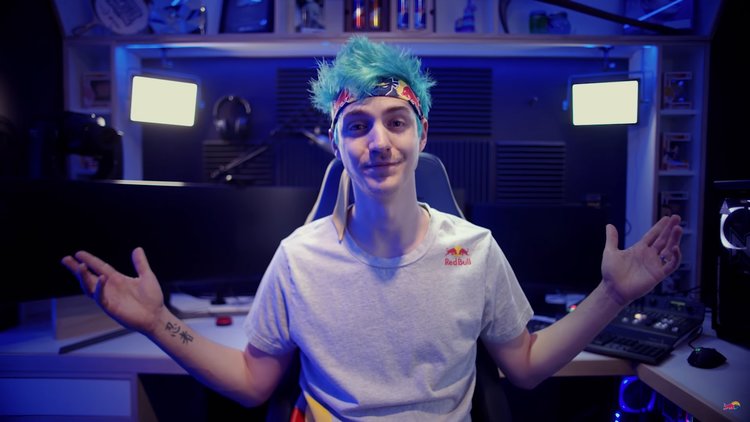 Although the complete roster of teams has yet to be decided, a number of organisations, including Worlds 2019 runners-up Fnatic, CS:GO Gods Astralis and longtime underdogs Team Liquid, have already thrown their hat into the ring, sending either existing organisation players or partnering with up-and-coming Tetris pros, including Fernando "T-Bar" Robinson.
In a statement from Ninja regarding the tournament:
"I've been very fortunate in life, being able to make a living from playing games, but Tetris 99 is the first game that has really had me addicted. From my first game it felt like a straight bar was dropped into my life, changing things forever and "completing me" so to speak. Unlike every other tournament, I'm not even getting paid by the publisher. I just want to give back."
In addition to the well know Battle Royale veterans and personalities, a number of professional esports players from other titles are joining the roster. Both Zhang "April" Jun-Chao, from Chinese League team FunPlus Blaze, and Jason "Fools" Michaels will be taking part, leaving behind their dying title and starting fresh with this emerging tier 1 esport title.
Few sportbooks have currently released their markets whilst brackets are still being confirmed, but Betway have released their primary outrights for top contenders. Currently, we see Shroud as being a solid underdog bet at 13.00 and T-Bar additionally being a strong gamble at 5.00, due to his exceptional Tetris history but lack of main stage experience.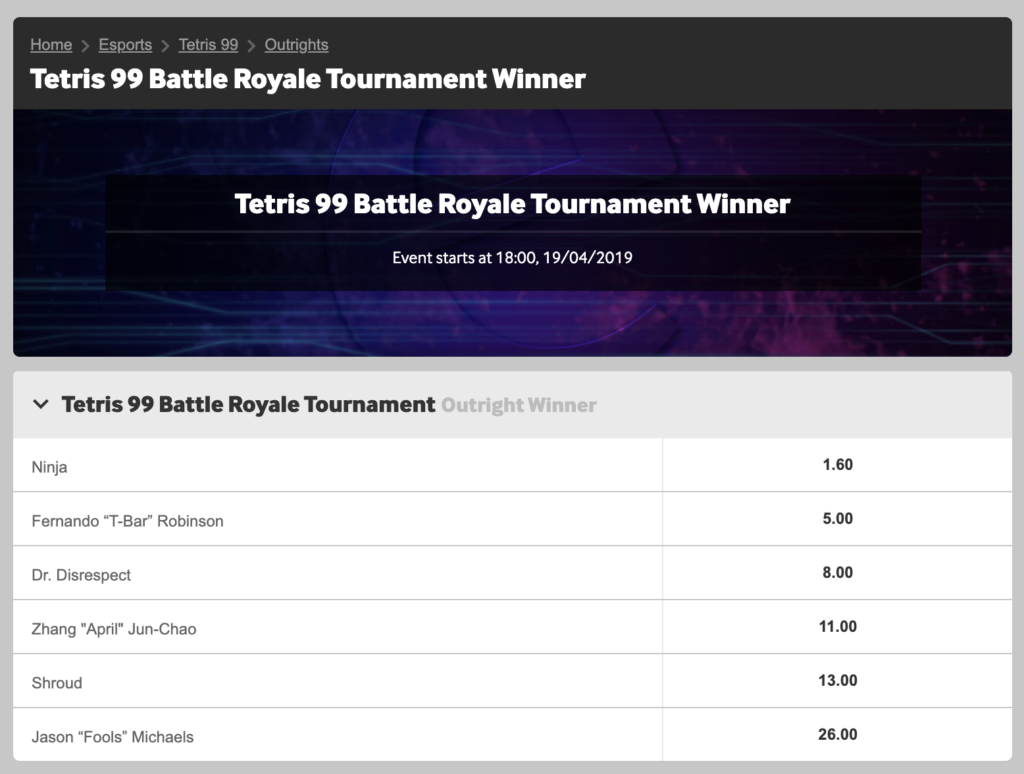 As we start seeing more sportbooks listing their markets for the Tetris 99 tournament, we will continue to list the best betting odds and bonuses. But until then, who do you think will take home the gold?