ESL has introduced a brand new tournament format for the upcoming Season 11 of CS:GO Pro League, beginning on March 16. Moving away from the previous regionalized model, the revamped all-LAN competition will consist of just one global division. Another radical change made to the format is reducing number of teams in a league by half, leaving 24 teams to compete for a share of the US $750,000 prize pool.
The tournament will culminate in three-day season finals, featuring the best six teams coming out of the season. The event will take stage in 1st bank Center in Denver, Colorado during this year's Easter, from April 10-12 and it marks the return of the Pro League Finals to America after three consecutive editions in Europe (two in Odense, Denmark and one in Montpellier, France). ESL has previously organized the Pro League finals in Dallas, Texas and Burbank, California.
"We are beyond excited to bring ESL Pro League back to the States after two years. The North American fans have always been very supportive and we want to reward them by hosting the revolutionary 11th season of ESL Pro League in the heart of North America" said Ulrich Schulze, Senior Vice President Product at ESL.. "The Mile-High city of Denver is the perfect fit to introduce the all-new format at an all-new location for ESL Pro League."
The regular season will be played during four weeks in a live studio in Europe. Four groups of six teams will take part in a round robin Bo3 group stage. Group winners will compete for a direct slot to the semi finals and Round 3 respectively.
Second and third placed teams of each group will face each other in a single-elimination brackets and will meet the group winners along the way. All matches starting with Round 3 will be played in the same arena where the Bo5 grand final takes place. On top of that, teams have a chance to earn Pro Tour points necessary to make it to ESL One Cologne, one of the two Master Championships later in the year with US $1,000,000 in prize money.
The new, transformed league is built around partner teams, that have been chosen by ESL to sign a long-term deal that grants them direct invitation for each season of EPL and a key role in its strategic decision-making process. The 13 teams that signed 'The Louvre Agreement' also became majority stakeholders with a share on revenue generated from all tournaments in the ESL Pro Tour and are protected from relegation.
Sebastian Weishaar, Chief Product Officer of ESL, stated in the release:
"The Louvre Agreement,' as we have grown fond of calling it, is a clear vote of confidence by the best teams in the world and their players to create the most valuable products. It will build a platform to create stability and growth, without sacrificing the ability for new teams and players to climb to the top."
The agreement was signed by Astralis, Complexity, ENCE, Evil Geniuses, FaZe Clan, Fnatic, G2, Mousesports, Natus Vincere, Ninjas in Pyjamas, Team Liquid, Vitality and 100 Thieves.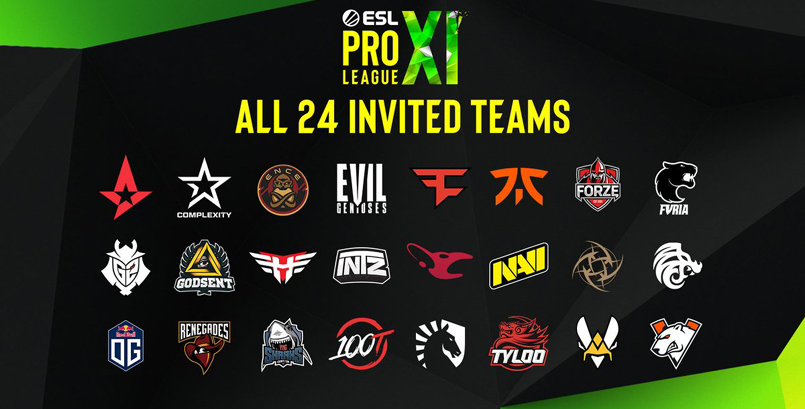 The rest of teams in division must qualify for each season either through their regional qualifier or through the Mountain Dew League. Teams that have earned a spot in Season 11 are Heroic, North, Renegades, TYLOO, Sharks, FURIA, GODSENT, OG, Virtus Pro, ForZe and BOOM.
ESL has also recently announced an official partner for Season 11 – the U.S. Air Force. The partnership is a part of a larger deal that includes IEM North America 2020 and group AnyKey and is supposed to support diversity, inclusion, and equality in competitive gaming.
"This partnership provides the perfect platform to generate public awareness about the Air Force and the many opportunities we have to serve. The Air Force has a lot in common with gamers, especially the intellectual challenge that both provide. The Air Force and ESL also greatly value integrity—a core value for each of us," said Maj. Ross McKnight, Chief, Air Force National Events Branch at Air Force Recruiting Service.
The U.S. Air Force will sponsor the 'Air Force Tactical Timeout' whenever a team calls a timeout during both Pro League Season 11 and IEM North America matches. They will also host on-site activations and produce dedicated content for the league's broadcast.