Since launching their Discord in 2018, ArcaneBet have been slowly building a loyal community of bettors and tipsters. At the time of writing they have just shy of 1,000 members in their channel, discussing both upcoming and in-play esports matches. To better accommodate their players, ArcaneBet have refreshed their user roles and added a rewards system to give away bonuses, Steam vouchers and unique Discord roles.
Currently nearing the end of season 2, the rewards system is broken down into 4 seasons across 2019:
Season 1 – January – March 2019
Season 2 – April – June 2019
Season 3 – July – September 2019
Season 4 – October – December 2019
Earn free esports bonuses with ArcaneBet
Participate and earning your ArcaneBet rewards is easy. All you need to have is an active ArcaneBet Account with minimum deposit of $30 each month, and that's it! Once your account is active, each time you post a message in the Discord you'll receive a random amount of XP between 15 and 25 (limited to once per-minute).
Each time you hit level milestones, you'll receive a betting bonuses credited to your account. All bonus rewards comes with x20 roll over with 1.8 minimum odds, with further terms & conditions noted towards the end of this post. We've outlined the ArcaneBet Discord level milestones below, as well as their corresponding bet bonus:
Lv.5: $5 bonus
Lvl.8: $5 bonus
Lvl.10: $5 bonus
Lvl.13: $5 bonus
Lvl.15: $5 bonus
Lvl.17: $10 bonus
Lvl.20: $10 bonus
Lvl.22: $10 bonus
Lvl.25: $10 bonus
Lvl.28: $10 bonus
Lvl.30: $15 bonus
Lvl.33: $15 bonus
Lvl.35: $20 bonus
Lvl.37: $20 bonus
Lvl.40: $30 bonus
Lvl.42: $30 bonus
Lvl.45: $50 bonus
Lvl.47: $100 bonus
Lvl.50: $200 Bonus
Ranks and XP will be reset at the end of each season, so make sure you get started as soon as Season 3 starts in July for your chance to win some great prizes and betting bonuses.
Rank top for bigger rewards
The Discord member holding the highest rank at the end of each season will receive the following bonuses:
$10 bonus every week for 10 weeks
$100 bonus once off
$50 Steam Voucher
Personally named channel on ArcaneBet Server until the end of the season (available for invited members by the winner only)
Unique season winner tag on their Discord profile
The top 10 users each season, aside from rank 1, will also get a 20 Euro bonus at the end of the season.
All members who participate and achieve level 20 or higher each season will qualify for our end of the year raffle, though this prize has yet to be announced by the ArcaneBet team.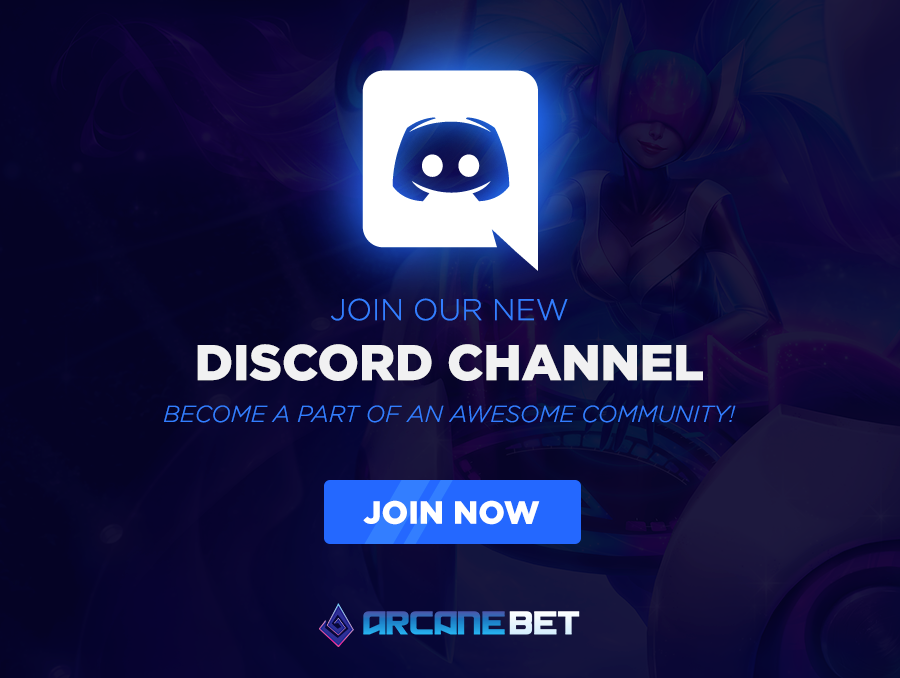 Terms & conditions
You must be over the age of 18 to participate in this rewards system
You must contact the ADMIN or support for your rewards to be credited. It does not credit automatically
Bitcoin accounts are not eligible for this rewards system. Please contact admin if you have a BTC account and you'd like to participate.
Duplicate accounts will be removed and banned from the server
Arcanebet Discord Admins have the right to block members from the server should they feel the member is spamming to gain xp. We don't want spammers guys, lets play this fair and have fun interacting with others in the server.
Any existing bonus abusers are excluded from this reward system.
Rewards are credited every morning and once per day
Rewards cannot be stacked, you must complete your previous bonus in order for you new reward bonus to be credited.
We cannot credit your rewards if you have any active bonus on your account.
Should there be a tie in a rank, we will consider the user with more XP as the winner for that specific rank.
If you are caught not following the rules or cheating, your rewards will be confiscated & revoked.