Following the conclusion of the inaugural Call of Duty League season, the round one matchups for CDL Champs have been revealed. 
CDL Standings
The CDL Champs round one matches are calculated through the CDL Standings. FaZe finished top, this gives them the #1 seed and therefore a veto advantage on every single team in the competition. Teams gained 10 points per match win and an extra 10 for winning a Home Series.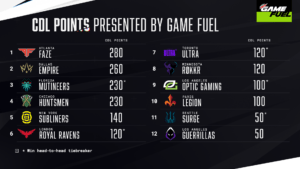 CDL Playoffs
In the CDL Playoffs, the top 4 seeds get a bye. This means that the top two teams start in winners round three, with 3rd and 4th starting in winners round two. 5th to 8th start in winners round one, while the rest start in the losers bracket. Starting in winners bracket means that you have an extra match if you lose one, this gives you another life in the tournament. 
The 1st round matchups see New York Subliners take on Minnesota Rokkr. London Royal Ravens matchup against Toronto Ultra. OpTic Gaming Los Angeles play Los Angeles Guerrillas in the battle for LA. Finally Paris Legion take on bottom of the table rivals Seattle Surge.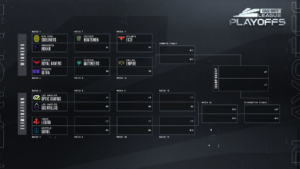 The Odds
We only have ML odds as of writing, however this page will be updated when more become available.
New York Subliners 1.44 vs Minnesota Rokkr 2.72
London Royal Ravens 2.24 vs Toronto Ultra 1.63
Paris Legion 2.02 vs Seattle Surge 1.77
OpTic Gaming Los Angeles 1.24 vs Los Angeles Guerrillas 3.90
We will be releasing daily preview articles just like we do for the normal Home Series. In these we will analyse the matches and give our final betting predictions. You can find the Call of Duty League Champs bracket here.