Over the past 6 months, since its official release, Battalion 1944 has been gaining a strong core following in the gaming community. Appealing to Call of Duty fans that miss the "world at war"-esque gameplay, whilst simultaneously appealing to the CS:GO crowd looking for a new title to dominate; its got a little something for everybody.
As the player base has grown, developer Bulkhead Interactive has seen the opportunity to propel the FPS title into the world of esports. To do this, a 12 month rollout for free content has been roadmapped and Bulkhead will also be investing $650,000 into Battalion 1944 esports to facilitate tournaments, leagues and prize pools for the game.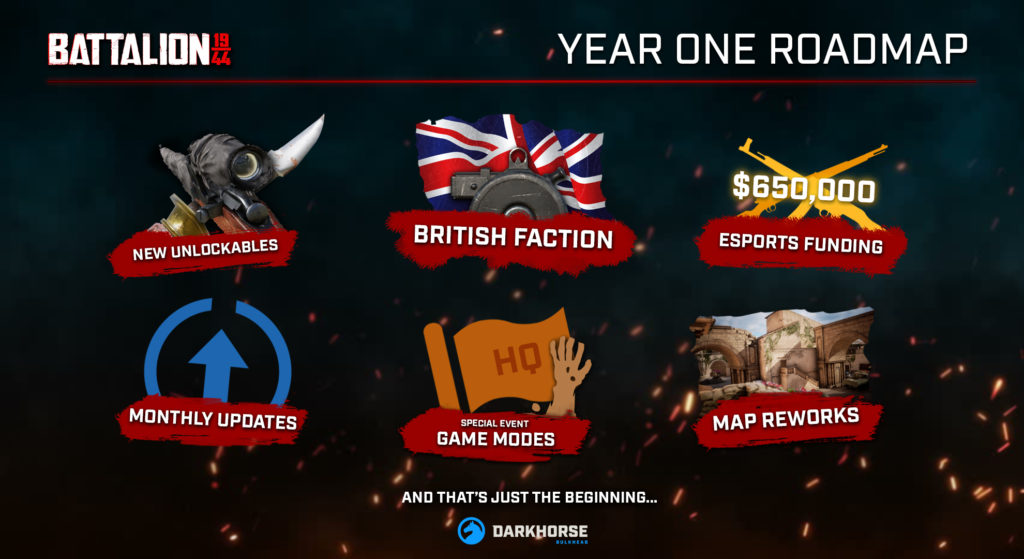 In an announcement post on Steam, Bulkhead said:
We're happy to announce that we'll be committing $650,000 towards the growth of multiple Battalion esports events. This doesn't mean this is the only funding available for the future of Battalion, as things grow we intend to also grow our support of the competitive community.

We're planning multiple tournaments and events to give all players big reasons to play and improve at the game.
The Blitzkrieg Open and Premier Leagues, for both EU and NA servers, will be the first competitive scenes to benefit from this investment, boasting a $20,000 prize pool.
"We're serious about growing Battalion from it's grass routes beginnings, as a competitive shooter, over the next year and beyond."
But the esports scene won't end there. In the same Steam announcement mentioned before, they also pointed towards the following esports tournaments to be rolled out over the next 12 months across multiple regions:
FACEIT Pro Series – An event geared towards pro level teams
Major with Online Qualifiers
Championships played in multiple regions
Blitzkieg Premier and Open League support
Online Tournament Support
We're excited to see how Battalion 1944 grows over the coming year and we'll be bringing you all the best Battalion betting sites, bonuses and offers as the esports scene matures and sportbooks start picking it up.