On the 7th until the 9th of December, more than 30 professional League of Legends players and 40 popular influencers, streamers and personalities will be descending upon the Esports Arena in Las Vegas to take part in the annual All Star 2018 event. The tournament is a popular fan favourite, drawing both a physical crowd to the studios and also a large online viewership from platforms like Twitch and YouTube.
The event isn't as serious as the franchised LCS and LEC events or Worlds, but instead poses fun game modes and settles socially charged "grudge" matches between players and personalities. In this years event we will see not only the return of fan-favourite URF Mode, featuring greatly reduced cooldown timers, but also Nexus Blitz, a new high action game mode with mini-games a-plenty, as well as Tandem Mode, in which one pro controls the mouse whilst the other controls the keyboard! In addition to that we will also be seeing:
The return of the All Star 1v1 tournament featuring all 32 Pros
A 2v2 tournament for charity that will feature pros and community partners teaming up and competing for the charity of their choice
An East vs. West (EU vs. NA) Showdown that will divide players based on their regional leagues
Tandem Mode: The ultimate test of teamwork in which two players control a single champion
Regional Rivalry Show matches with dream teams you won't see anywhere else
Nexus Blitz & URF mode matches featuring pros and League Partners
All Star 2018 promises to be a celebration of League like no other. Make sure to circle your calendar and be sure to check out our detailed schedule of the event later in the article including a breakdown of timings.
Who will be competing?
During the event we will see a combination of professional League of Legends players from across the LCS pro scene and well known streamers and personalities. From each region, this pool of approximately 64 All Stars will include:
2 pros from each competitive region, as voted by fans
2-3 League Partners (streamers, prominent LoL community members, etc.) from each region, selected from the League Partner Program
4 pro player "All-Star Invitees", chosen by Riot after the conclusion of the fan vote
A complete list of players has been released on the All Star microsite, but here's a few of our favourites that will be attending from across the different regions:
Doublelift, Sneaky, Imaqtpie ??
Caps, Broxah ??
Uzi, Rookie ??
Faker, Madlife, Captain Jack ??
Speaking about the event, popular streamer and ADC main Imaqtpie said:
I'm happy I can finally be a part of All-Stars because when I was playing, I was on Team Dignitas and that team — no one on there is ever going to All-Stars. Except Scarra went one year for whatever f**king reason, but yeah, I'm excited to finally be at an All-Stars Event.

I'm playing in the NA vs EU 5v5 game, and I'm pretty excited to see it — I think we have Sneaky, Doublelift, and me. And I think Sneaky is going middle against Caps and I'm excited to just watch him just get [laughing] pounded by Caps. I hope that Caps shows no mercy to Sneaky.
What will they be playing?
The year the format of the All Star event has been reworked to deliver fast-paced action and competition over the 3 days. With plenty of different game modes ranging from the hyper competitive to the downright strange, we can expect to see the following:
All-Star 1v1 Tournament – All 32 pro players will participate in the 2018 All-Star 1v1 tournament. Whether they try-hard or troll will be up to them, but there's a pretty sick Draven trophy and title of 2018 1v1 Champion on the line
All-Star Charity 2v2 Tournament – New to All-Star 2018, we'll see pros and Partners pair up and compete in 2v2 matches on the Howling Abyss. They'll be playing for a charitable donation in their name to a cause of their choosing (with guidance from the Riot Karma Initiative)
Regional Rivalry Show Matches – This All-Star twist on regional rivalries will feature teams comprised of both pros and Partners. Matchups will include NA vs EU, China vs Korea, and more!
East vs West All-Star Showdown – Another new addition this year is our East vs West All-Star showdown. We'll create teams of Eastern and Western pros to compete in a set of three games, with players rotating out after each game in the set
Mixed-Team Alternate Game Modes – Finally, throughout each day we'll have mixed-teams participating in alternate game modes. Stay tuned for a lineup of game modes to be announced in tandem with other details, just before the event. It's gonna be an all-out blitz.
Where to Bet on All Star 2018
Popular esports focussed bookmakers are already covering the event, listing a range of markets and unique bonuses to let you bet on your favourite players and streamers as they dominate the rift. Well-known esports betting providers such as Betway and 22Bet are fantastic places to make your first bet if you're new to the world of betting, but you can also explore sportbooks such as Rivalry or GG.bet if you're looking for something more tailored to an esports fan specifically.
There will be a range of betting markets covered including First Blood, CS under/over and winning regions; not just match winners. So be sure to explore all of the possible markets and bonuses before making your bet to make sure you find the best odds and make the most of your winnings!
All Star 2018 Schedule
Note: Show starts at 4 PM PT each day. All times are approximate and listed in PT.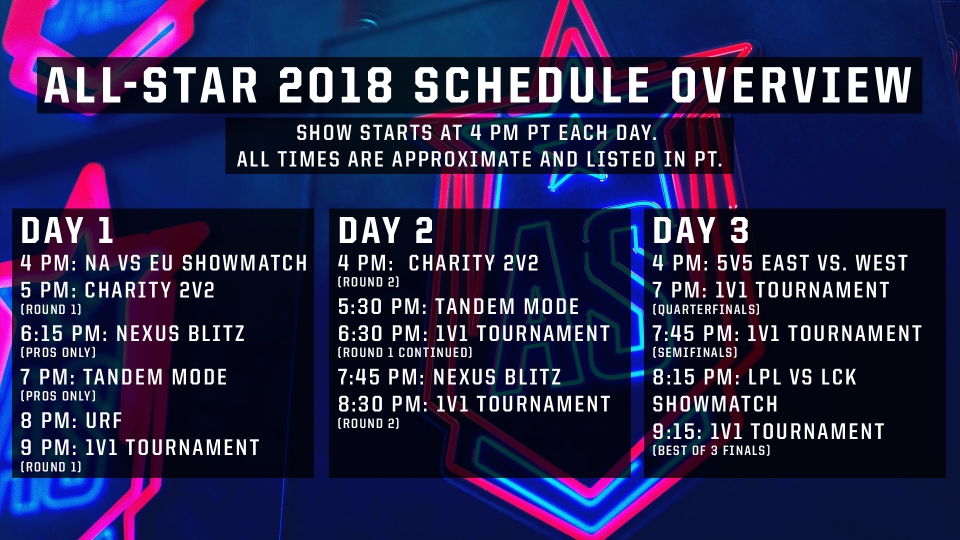 Day 1
4:00 PM: NA vs EU Regional Rivalry Show Match
5:00 PM: Charity 2v2 (Round 1)
6:15 PM: Nexus Blitz (Pros only)
7:00 PM: Tandem Mode (Pros only)
8:00 PM: URF
9:00 PM: 1v1 Tournament (Round 1)
Day 2
4:00 PM:  Charity 2v2 (Round 2)
5:30 PM: Tandem Mode
6:30 PM: 1v1 Tournament (Round 1 continued)
7:45 PM: Nexus Blitz
8:30 PM: 1v1 Tournament (Round 2)
Day 3
4:00 PM: 5v5 East vs. West Showdown
7:00 PM: 1v1 Tournament (Quarterfinals)
7:45 PM: 1v1 Tournament (Semifinals)
8:15: LPL vs LCK Regional Rivalry Show Match
9:15: 1v1 tournament (Best of 3 Finals)
Earn prizes watching All Stars 2018
If you want to make the experience even more exciting, then you should tune in to the stream on the official League of Legends stream during the event to earn exclusive in-game rewards and chat with other fans live. For more information on the roster of participants and game modes, check out the All-Star Informational microsite.